SIRE - CH. Gypsy Canyon Dom Pierre
DAM - CH. Fabelhaft Miss MoneyPenny
BRED & CO-OWNED BY - Diana Bates
OWNED & LOVED BY - Janna Watson - Santa Monica, CA.

BruceLee is Jolie's next West Coast Show prospect. He lives close by in Santa Monica with his new owner Janna and her other French Bulldog, Pearl. You will often see them taking walks in Santa Monica, shopping at Fred Segal, Third Street Promenade and The Mall at Santa Monica Place. BruceLee has certainly developed a keen eye for the finer things. Like his sister, Bruce Lee also has an incredible head, perfect ear set and that wonderful rear angulation that he inherited from his father, Bubbles. We look forward to continue to watch BruceLee grow more stunning everyday.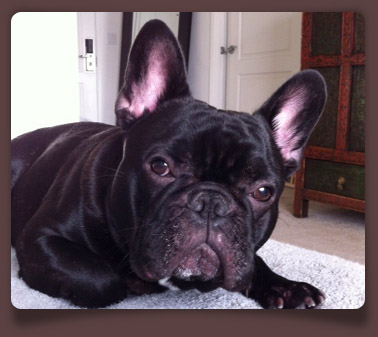 CH. Gypsy Canyon Dom Pierre

CH. Magic Time DA Rock at LJ's
Suma's General Beauregard
Magic Time the Blond Star
Elohim's SHRP Shotr 4 GypsyCyn
Ch. Chitawee's Money to Burn!!
Elfin Forrest Screaming Mimi

CH. Fabelhaft Miss MoneyPenny

Ch. Fabelhft Majic Marc'r
Ch. Tidewater Monte Carlo Jackpot
Ch. Bridge Gradon Poupay
Eybul's Litle Nell Van Romeo
Ch. Robobull Fabelhaft Excelsior
Ch. Eybul Ma's Favrit Valentine